EXCHANGE STUDENTS EXPERIENCES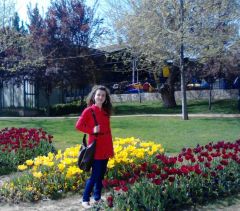 I'm Suzana Leka, studying for English Language and Literature. In the second semester of my first academic year I was enrolled in an Exchange Program. I was in Denizli, Turkey. My stay in Turkey has been pleasant. The atmosphere in the campus has been nice. Our courses have been really interesting and I have learned a lot of new things in our classes. We have had a lot of free time which is really important because I think that exchange period should be also something else than just studying. Learning new culture and country, meeting new people and trying, to live abroad also important things in exchange. For me this exchange has given a new ways of thinking with my occupation but also many important different things, for example I have learned many things about myself while living in same environment and also learned to respect my own home country. The teaching style and methodology was quite similar to that in "Beder University". Lecturers explained the lesson we were taking notes, dialed with different assignment, research papers, quizzes, mid-terms and finals were almost the same as here.
In the first day when I entered school I was a bit scared and all the time I was asking myself "what I'm doing here? Know nobody in this city, these are all Turkish only me Albanian how I'm going to adapt myself in here"? Such kind of things were coming to my mind. First days I found it really hard to conform myself in Denizli. In fact I had a favor I knew Turkish before, I have studied it in high school. So knowing Turkish helped me to communicate with people easily. By passing the days I started adapting myself there, thanks to Turkish people they are really hospitable, thanks to them I spent such a great time there. For me was also another reason to apply for exchange, to meet new people and to have a different experience studying abroad even for a term I really enjoyed the time there,"Pamukkale University" provides good environment for exchange students.
There was concise checklist for me to prepare all the supporting documents for visa and registration because I had to take permission from the government to stay in that city, but they helped me was not difficult to take it. It is quite easy to prepare everything simply by following the guide provided by "Pamukkale University". So what you need to do is regularly checking emails before departure.
I want to share with you my funny experiences, I want to call like this because whenever I remember I start laughing. The first days didn't go very smoothly. In the first day two friends came with me, one was from Kirgizstan and the other from Russia upon arrival we took the bus to the campus student residence. However, after settling down everything, one day I got lost in the large campus when I had taken the wrong bus for coming home. I became very scared and concerned because night was approaching and I was in the wrong place "What should I do now?" Bus driver warm-hearted and helpful led me the way back to the student hostel finally. They told me the locations of shuttle bus stops and how students take good use of campus shuttle bus which is pretty useful for campus life there.
Now I am telling you my second funny experience. The first lecture I attended shocked me, it was Turkish History course the lecturer started speaking in Turkish I was waiting him to speak in English but he was speaking all the time just in Turkish, some of his sentences I understood but some no because it was history my Turkish level was not advanced enough to understand those historical terms in Turkish. I became confused and scared I asked myself "Is he going to talk all the time in Turkish, but we are in English Literature not in Turkish or I did confused the class"? Later on lecturer started asking all the student one by one if they were pleased with the grades they had taken last term in History course, I didn't understand clear what professor was asking. It was my turn to answer, he asked me what about you? I spoke in English "I'm a new student I know Turkish but not very good it's the first time I am attending this course", professor got shocked he didn't know English and all the students started looking at me, in that moment they understood that in their class was a foreign student. Professor asked me about my nationality, about my family why I had chosen Turkey etc. I answered all with "my Turkish" means it was not very proficient, but they could understand me. He said me maybe you are in the wrong class I insisted no I'm not I should be here The Head of Department told me to join this class. In fact I was not in wrong class, we had not done the registration yet and I didn't know which courses I was supposed to take. I was attending all the courses that my classmates were supposed to attend. Turkish History was just for Turkish students not for foreigners. By that time they started helping and became my friends. These were two of the first days' experience that I will never forget.
I met students from different countries, also I made some friends from Senegal, Kirgizstan, Russia, Turkmenistan, and Kazakhstan, also from Albania was a girl with whom we had a great time. These were all student studying full time in Turkey. We all could speak in English and Turkish, so we were able to communicate and share ideas easily.
It was a little sad to say goodbye to the friends whom I spent time with during the exchange period although we promise we will be meeting someday. Also we still keep in touch with some of classmates there we talk in Facebook and email each-other.
I thank my University for giving me this opportunity, for making this amazing experience in Turkey possible. I've had the time of my life! I advise all students to be part of such a program as exchange program, it will be a great "plus" for you in every career step.
Suzana Leka
I am a student in Master of Science, "Hëna e Plotë" Bedër University and I want to share my experience as a student that went on an exchange program to Denizli, Turkey. Doing a study exchange is really an unforgettable experience for a university student, both for the learning process and broadening of horizons. When I applied for this program, I was a bit afraid because of many reasons, also I wasn't able to realize that I was going to stay in another country for one semester. My parents and my friends encouraged and supported me all the time in understanding the beauty of this opportunity.
During that period, I met people from different cultures and countries of whom I have never met before like Russia, Turkmenistan, Kirgizstan, Africa, whilst having lots of fun and making great friends. It was great sharing and experiencing all the cultural differences that make us all same yet very different at the same time. I enjoyed finding out more about myself and how I adjusted to new real life situations that I had never experienced before. I enjoyed being part of another culture, somehow similar to our culture, and taking on the habits and embracing the traditions and customs of Turkish life.
Learning to communicate with people in other ways if there was no common language was funny, frustrating but always interesting. I didn't know Turkish when I went there and it was really difficult at the beginning. I especially enjoyed devouring the special dishes of the country.
It was the initial shock of starting a new life by me in a foreign place but then being able to really embrace the learning experience of living independently without the comforts of home was most satisfying. However it was nice to live in Turkey for a while and living the Turkish student lifestyle for some months.
The campus of "Pammukale University" was enormous. Each faculty has its own building and everything was based in particular rules. My classmates and my friends at home helped me to learn Turkish easily. These students enabled me to learn more about their own countries and culture. All friends that I made at university, home were very nice people never complained about anything and they never let me down. Professors were very kind, and made me feel comfortable but at the same time they supported me with the lessons and how to conform with the school and students too.
Being an exchange student gave me some of the most beautiful moments I have had in my entire life. I can't be grateful enough for all the people that crossed my path and have made my stay such an awesome experience.
Zamira Ciraga